Last night, Leaning Technologies were presented with the Cloud Innovation of the Year and Best Enterprise Tech Project at the National Technology Awards in London.
The Awards are the most comprehensive celebration of technology in the year, with 33 trophies up for grabs, celebrating the best technologies across a range of industries.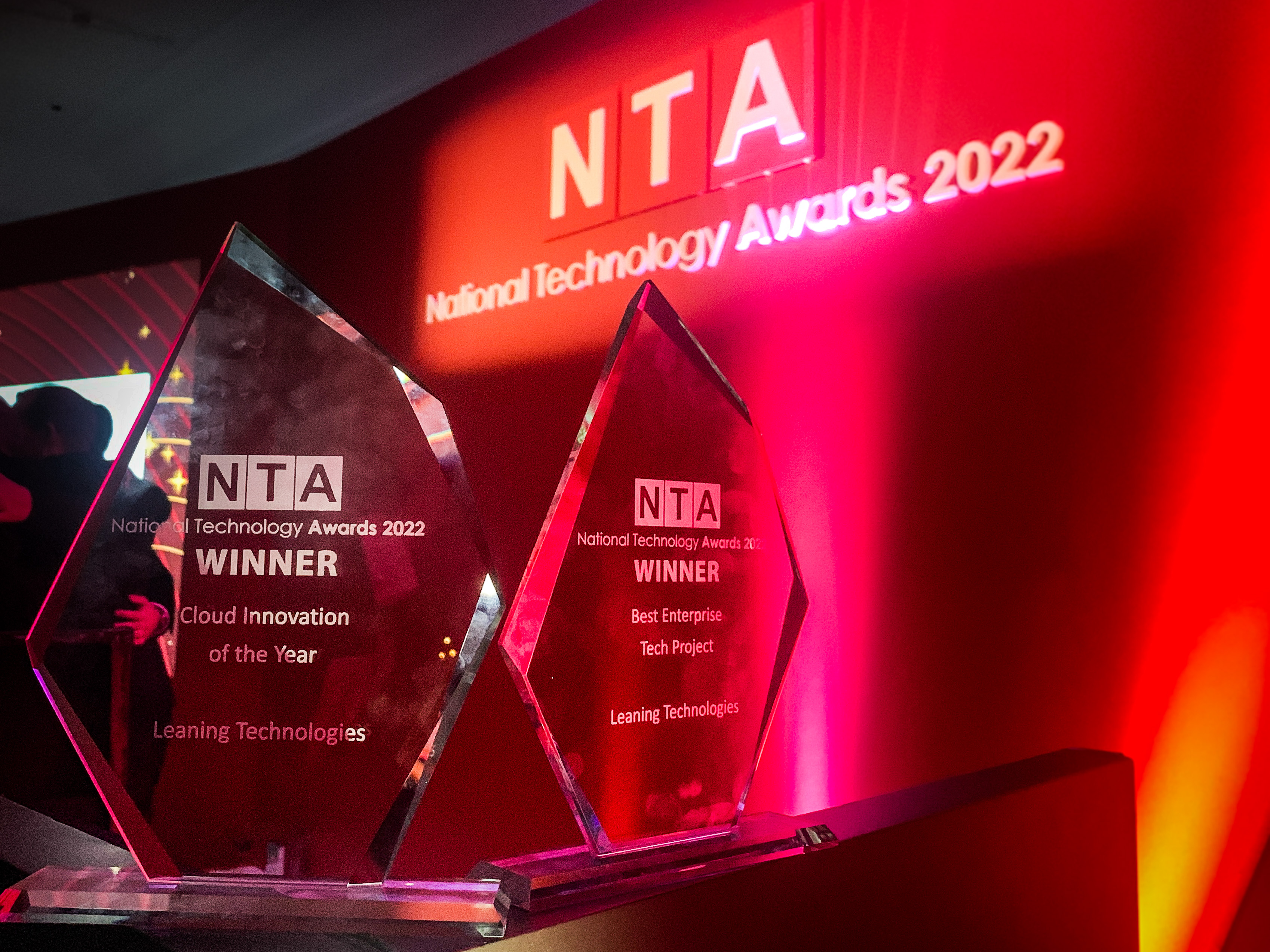 Cloud Innovation of the Year
Leaning Technologies was awarded the Cloud Innovation of the Year for its work on WebVM, a full Linux-based virtual machine running in the browser, powered by WebAssembly. It is especially gratifying to be recognised by the judges as WebVM is the culmination of over three years of R&D work by our team of experts in WebAssembly.
WebVM
WebVM is a Linux-based x86 virtual machine, based on the CheerpX x86-to-Wasm JIT engine, that can run any Linux x86 unmodified executable.
WebVM can run any Linux x86 payload fully client-side. It is effectively server-less and has no active server-side component. All users access the same disk image from the CDN, with their individual changes being preserved locally to the browser. This means that it can support even millions of concurrent users with minimal costs and resources.
The first release of WebVM, on 1 February 2022, was received with extreme interest from the community, resulting in hundreds of thousands of accesses to the demo and our announcement, coverage as a front page of Hacker News (run by Y Combinator) for over 24 hours, and multiple Fortune 100 companies reaching out to discuss uses of the technology.
Best Enterprise Tech Project
Leaning Technologies was also awarded the Best Enterprise Tech Project for our solution to the deprecation of the Adobe Flash Player, CheerpX for Flash.
CheerpX For Flash
Last year the Adobe Flash Player as it entered its end of life, with Adobe urging all users to uninstall it immediately. Extremely popular in the 2000s and 2010s, Adobe Flash retained a significant audience in a variety of long-life Enterprise applications, and many organisations found themselves still having a need to continue using their mission-critical Flash content after January 2021.
A complete rewrite of complex Flash applications is often cost-prohibitive, impossible (if the application is third-party) or impractical. Preserving access to these applications is often an absolute necessity, and the solutions offered by Adobe and other organisations, being based on using custom browsers, are only viable for internal applications.
To solve this problem, we developed an Enterprise tool, powered by WebAssembly, called CheerpX for Flash. This inline, easy-to-integrate solution, seamlessly extends the life of existing Flash applications, without requiring users to install special software, custom browsers, or to force the use of unsupported legacy browser versions.